A night of 'occupy' by the Powers of NOLA
While the new leader of a certain political party, or at least everyone still calls them that, and he is until they anoint another, blames his attempt at being the next president loss on the 'Gifts' given to minorities, and many who vigorously backed him try and run from him now, but completely buy into what he said as do their supporters of which previous similar comments can't be run from, New Orleans movers and shakers spent a night on the sidewalks of NOLA and with their homeless. And those 'minorities' include our Military Veterans community who need help or fall on hard times because of.........!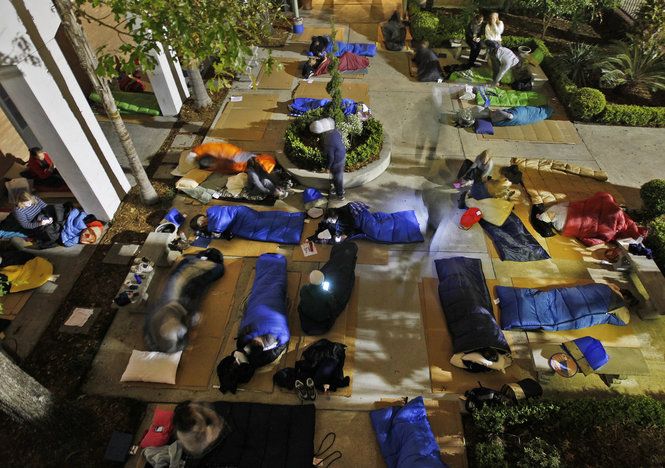 Sleeping on sidewalk is opportunity for reflection for 40 New Orleans leaders
November 16, 2012 - Tears filled the eyes of an emergency room doctor, a CEO and a New Orleans City Council member Thursday night as they sat at a table at Covenant House, a youth homeless shelter, listening to a 21-year-old mother explain how she had ended up there. After having been abused, neglected and thrown out by her family, the woman said, she chose to come with her baby son to the shelter at the edge of the French Quarter on North Rampart Street.

"If I had to come and lay my head at a shelter, that means (my family) didn't care. It really hurts me. Did you ever feel like no one loved you?" asked the woman, who requested to be identified only by her initials, K.W.

Those at the table, filled with eight community leaders, shook their heads. "I have been very blessed to have the love and support of my parents," said Pierre Detiege, an emergency room doctor at Interim LSU Public Hospital.

"What can I say?" asked City Council member Kristin Gisleson Palmer. "I can't put myself in your shoes. I had a family. I had a safety net at the end of the day." read more with a few more photo's>>>
This event was a fundraiser for Covenant House which I've caught a few articles about leading up to last night, like this one 40 CEOs, judges and politicians will sleep on sidewalk tonight to raise money for Covenant House
Like I said above, these minorities that get 'gifts?' include the minority population that served or are serving this country!
{click on photo for larger view}