No Revenues = Still No Sacrifice = That's Called 'Support' For The Troops!!
No Sacrifice now a decade long added to the previous decades!!
Already known through decades of our brothers and sisters living those false patriotic? meme's and cheap symbols of!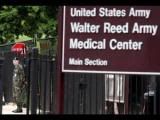 NPR and others have been doing a series on the closing of Walter Reed hospital, Hurricane Irene sped up the moving of the last patients by a day, and in those are givin some of the history of, but it is sadly noted in many not what Walter Reed will be remembered for, as to long time great care for the soldiers we as a nation send into our wars and occupations but for the not so dark side as an investigation not by Congress but by a few in the media brought to full light, as this country not only waged two more wars of choice but many were cheering them on as they condemned others for not walking in lockstep with them and their total support of, but none of same were demanding the Countries Sacrifice.

These reports tell the serious, very long term in relation to veterans care, problems this country has, especially as to it's chosen wars cheered on with flags waving and patriotic words and symbols, and the results from, and especially under the leadership of certain political ideology at the time both in Congress and the Executive branch giving an open book to the many other issues of this society and country not long ago. It also shines a light on the now long obstruction, and any who support same in that political ideology, complelety flipped from those previous years.


Walter Reed Was The Army's Wake-Up Call In 2007
Michel Du Cille/The Washington Post/Getty Images: Jeremy Duncan, a wounded Army specialist assigned to Walter Reed's Building 18, peels back the wallpaper in one of its rooms to show mold in January 2007.

August 31, 2011 - For more than a century, the Walter Reed Army Medical Center was known as the hospital that catered to presidents and generals. Eisenhower was treated and died there. So too did Generals "Black Jack" Pershing, Douglas MacArthur and George Marshall.

But in recent years, Walter Reed was shorthand for scandal.

A 2007 series that dominated the front page of The Washington Post told of decrepit housing and wounded soldiers left to fend for themselves.

But the problems were identified years before. Salon.com wrote about it in 2005. Members of Congress later said they had complained to senior Army officials a year or two earlier. Nothing happened.

Soldiers Fending For Themselves


snip


Courtesy of Oscar Olguin: At Walter Reed, Oscar Olguin and his family were visited by President Bush and first lady Laura Bush. But Olguin says that when he left the hospital, he had to fend for himself.

Among those who had problems at Walter Reed was Oscar Olguin, an Army private who lost a leg in Iraq in 2004, when a suicide bomber struck his Humvee outside the city of Ramadi.

Olguin was discharged from the hospital at night in December 2005, in his wheelchair. He was simply told to find his new quarters.

"I got out. I was in my wheelchair. I was by myself," Olguin says. "I got released in the middle of the night. I'm trying to find my way. So I just started rolling around in my wheelchair. And ended up taking the streets, and just following the signs to get to Malogne House."

He never checked in with anybody, even as he attended his physical therapy appointments. It wasn't until three months later that Olguin was contacted by an Army master sergeant. "You're in my platoon," the sergeant told him. "And you have to check in with me every morning."

That wasn't Olguin's only problem. He also had a roommate.

Nikki Kahn/The Washington Post/Getty Images: Workers for IAP World Services peel moldy wallpaper off the walls and make repairs in one of two rooms in Building 18 at Walter Reed in Washington, D.C., in February 2007.

"I had a roommate who was suffering from severe PTSD [post-traumatic stress disorder], who wasn't supposed to have any sharp objects," Olguin remembers. "I didn't know."

Olguin went on a ski trip with other wounded soldiers, and when he returned, his roommate was gone. Military police had taken him away.

"He tried to slash his own wrists with the knives that I had in my room," says Olguin. "That was probably the worst part. He could have killed himself, and I could've played a part in that, and not even known." to listen and read more>>>

Members of Congress later said they had complained to senior Army officials a year or two earlier. Only a few and those were mostly the minority then, not allowed to hold hearings not wanted by the majority, the majority held the comment that Reed was closing soon so funding to repair wasn't needed! Even though they rubber stamped funding for two wars they knew gravely wounded soldiers would be sent to Reed for care and rehab.



Report blames funding, neglect for Walter Reed woes




4/12/2007 - Money woes and Pentagon neglect are to blame for shoddy outpatient conditions and bureaucratic delays at Walter Reed Army Medical Center, an independent review has concluded.

Calling for major changes in troop care, the Independent Review Group said the aging hospital in Washington, D.C., was beyond the point of repair. It urged a quick infusion of funds to relieve short-term problems and said the Pentagon should accelerate plans to build a new, expanded facility in Bethesda, Md.

"The American ethic is that America always takes care of its wounded," said John O. "Jack" Marsh, Army secretary during the Reagan administration and co-chairman of the review, noting that problems probably extended to other Army hospitals around the nation.


snip


Citing lapses in leadership and oversight as main reasons for the problems, the nine-member independent group concluded that the Defense Department was, or should have been, aware of the widespread problems but neglected them because they knew Walter Reed was slated for eventual closure.

In addition, the Pentagon made problems worse by ordering a hold-down on costs and expenses — dubbed "efficiency wedges" — even as Walter Reed began experiencing an influx of thousands of veterans returning from Iraq and Afghanistan.

"Leadership at Walter Reed should have been aware of poor living conditions and administrative hurdles and failed to place proper priority on solutions," according to the report released Wednesday.

The report said the Pentagon was ill-prepared to deal with growing numbers of troops suffering from traumatic brain injury or post-traumatic stress disorder. read more>>>




Walter Reed One Year Later: Democrats Lead the Way for Change, While Lessons Are Lost on the Bush Administration




February 15, 2008 - By contrast, the Bush Administration has failed to grasp the lessons of Walter Reed. Its record of poor leadership, mismanagement, and underfunding has continued despite the unprecedented challenges facing the VA. Earlier this month, the President unveiled his Fiscal Year 2009 budget, once again proposing to shortchange critical health care programs for veterans. The budget underestimates the cost of medical care, calls for significant cuts in funding for construction and maintenance at VA medical facilities, grants to states to support long-term care programs, and reduces key oversight functions. read more>>>


Things didn't start being done, few hearings and very little oversite previous, until the 110th and 111th Congresses came aboard, even with the obstruction numbers from the now minority party. Then the 112th came along and in the House the minority became the majority and quuickly went into trying to cut Veterans Administration funding as well as laying any blame for perceived VA failures, as we have a VA administration finally bringing the Agency not only into the 21st century but building for beyond with little Congress help but allot of obstruction in many area's, DeJa-Vu, not fully funded for decades like record keeping technology, on the VA at House hearings as the VA is still being overloaded with soldiers returning from multiple tours in still two war and occupation fronts. One left to fester, abandoning the main mission for years, into and all out quagmire that rages on, still creating hatreds and thus weakened national security, as the numbers killed and maimed add up monthly, in theaters and at home!

Like everything they already destroyed, and are continuing to try and destroy to regain the power in Washington, their supporters as well, they send out Walter Reed on a totally negative picture, not the picture of the once great history of, even though those will be remembered by many, especially those who went through those doors!



No Revenues = Still No Sacrifice = That's Called 'Support' For The Troops!!




No Sacrifice now a decade long added to the previous decades!!
Already known through decades of our brothers and sisters living those false patriotic? meme's and cheap symbols of!