While the moneychangers coddle those who are still solvent, especially their wealthy and the extremely wealthy customers making sure they keep that wealth within their bank vaults, they continue to put the squeeze on those who can least afford to lose even single dollars that put food on their tables, heat into their homes and have to fight just to exist, especially the retired after years of labor and the disabled!
This is just one of the oh so many ways the free market capitalist, very small 'c' for a very small group of, seek to destroy the dreams of the greater masses as they keep changing the some thirty plus years of spin and excuses of their own con game:
Divorcing your bank?
Oct. 15: With bank fees on the rise and free checking accounts rapidly vanishing, NBC's John Yang explores some ways around the charges.

Visit msnbc.com for breaking news, world news, and news about the economy
Keep in mind the very heavy and very positive Corporate Media Coverage of the so called, corporate funded even with talking points and corporate hyped, tea party while viewing these Corporate News Outlets reports as to yesterdays real grassroots actions.
From Wall Street to the world
Oct. 15: Protests over big money and hard times reverberated around the world today, as tens of thousands took to the streets across the U.S., Europe and Africa. NBC's Keir Simmons reports.

Visit msnbc.com for breaking news, world news, and news about the economy
Occupy Wall Street arrests in NYC
Oct. 15: Police cracked down as protesters ventured from their Wall Street area encampment into the heart of Times Square. NBC's Mara Schiavocampo reports.
Visit msnbc.com for breaking news, world news, and news about the economy
"Occupy" protests reach Asia, Australia Oct. 15 2011 Frustration with income inequality sparked peaceful but passionate anti-corporate rallies across Asia and Australia. Celia Hatton reports on the issues binding together protesters half a globe away.
"Occupy Wall Street" lands in Europe
October 15, 2011 6:25 PM Demonstrations are being held across Europe in solidarity with "Occupy Wall Street." As Charlie D'Agata reports, cuts in spending and rising unemployment are fueling the anger spreading across the continent.
And at one action in the U.S. a minor but very important human problem exists.
Occupy Charlotte protesters have no place to "go"
CHARLOTTE, N.C. -- October 15, 2011 - The Occupy Charlotte movement is holding firm on its campsite at Old City Hall, but there's one detail that may make them want to cut their stays short – there are no bathrooms.

London, Oct. 15, 2011
A demonstrator dressed as Jesus Christ takes part in the Occupy London Stock Exchange demonstration in London Saturday Oct. 15, 2011.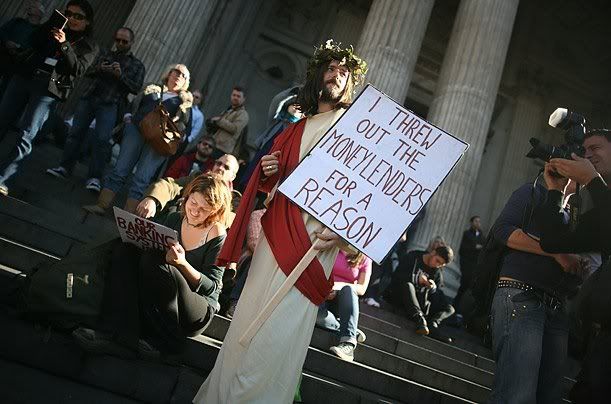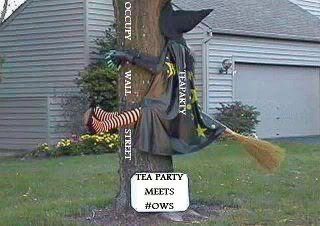 The Demands are each individuals reasons for participating, those demands intertwine with the others they are around or those far away!
The Reasons are in the posters, in the writings from, in speaking with each individual!
That's Grassroots Activism not media needed lists, media needed leaders, or corporate funded think tank meme's passed to a few to feed those that parrot, nor corporate funded groups 'think tea', to tear apart with their opinions while being called 'experts?'!!!!!!!
And while the people rose up around this Country and the World the following came out with little fan fare yesterday but very important as to one of the causes of the collapsing in many area's and left to the present to deal with from those who ordered and implemented the extremely destructive failed policies which will continue to have repercussions and blowback from!
U.S. Abandoning Plans To Keep Troops In Country
10/15/11 02:44 PM ET - The Associated Press has learned that the Obama administration is abandoning plans to keep U.S. troops in Iraq past a year-end withdrawal deadline.

A senior administration official in Washington confirmed Saturday that all American troops will leave except for about 160 troops attached to the U.S. Embassy. The Pentagon had considered leaving up to 5,000 troops to train security forces and hinder Iranian influence.

A senior U.S. military official said the withdrawal could allow future, limited U.S. military training missions if requested. read more>>>