Extreme Wealth Inequality in America
We are the 99 percent
We are the 99 percent. We are getting kicked out of our homes. We are forced to choose between groceries and rent. We are denied quality medical care. We are suffering from environmental pollution. We are working long hours for little pay and no rights, if we're working at all. We are getting nothing while the other 1 percent is getting everything. We are the 99 percent.
Brought to you by the people who occupy wall street. Why will YOU occupy?
As to just one Extremely Important Issue of the Decade!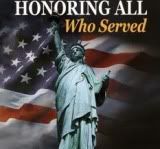 "And so what I've been trying to do and what Mrs. Biden and Mrs. Obama and the chairman and his wife - all these folks, are trying to do is to - is to try and get that other 99 percent to - they all say they support the troops, but it's not just enough to say it." - Defense Secretary Robert Gates - 23 June 2011 - PBS News Hour
Country Must 'Sacrifice' not just Groups Within nor Just Non Profits Fighting for Donations!
No Revenues = Still No Sacrifice = That's Called 'Support' For The Troops = DeJa-Vu all over again, Shared Sacrifice My A**!!
As those war profiteers who ordered are still profiteering and not only on books, their wealthy class does as well, directly or indirectly, and none are taxed to boot!
No Sacrifice now a decade plus long added to the previous decades!!
"A nation that does not take care of its veterans has got no business whatsoever making new ones." Stacy Bannerman, April, 2007