Iraq War vets honored at White House dinner
03/01/2012 - More than 70 veterans of Operations Iraqi Freedom and New Dawn represented the tens of thousands of U.S. troops who have served in Iraq since 2003. The White House held a dinner to recognize their efforts, as well as those who support them.
Obama salutes Iraq war vets at White House dinner
29 February 2011 - Looking out over a sea of dress uniforms sparkling with medals attesting to years of wartime strife, Obama told the gathering: "In a culture that celebrates fame and fortune, yours are not necessarily household names. You are something more: the patriots who served in our name. And after nearly nine years in Iraq, tonight is an opportunity to express our gratitude and to say once more, welcome home."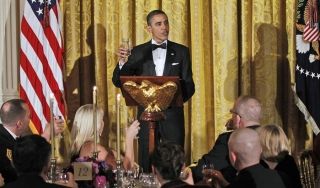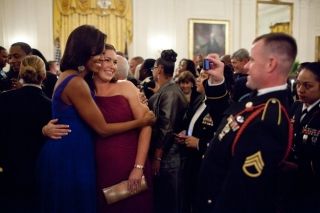 First Lady Michelle Obama is photographed with a guest during the Department of Defense dinner in the East Room of the White House, Feb. 29, 2012. The President and First Lady hosted the dinner to honor members of the Armed Forces who served in Operation Iraqi Freedom and Operation New Dawn, and members of their families. (Official White House Photo by Pete Souza)
Visit msnbc.com for breaking news, world news, and news about the economy