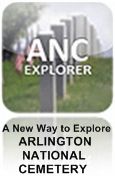 November 29, 2012 - Arlington National Cemetery has created ANC Explorer, an application that can be downloaded on a smart phone or used through a web browser that will enable family members and the public to explore Arlington's rich history. The first version of ANC Explorer will allow users to look up events, locate gravesites or other points of interest throughout the cemetery, generate front-and-back pictures of a marker or monument, and receive directions to these locations. In the future, ANC Explorer will offer features such as emergency and event notifications, restroom and water fountain locations, shuttle stops, and self guided tours.
A New Way to Explore ARLINGTON NATIONAL CEMETERY
Click on graphic and it takes you to the online site for Computers
The downloadable apps for smart phones can be found there or at link in above description.