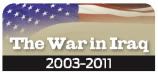 And Not A Dime Has Been Paid For Either War, rubber stamping and rapid deficit rising started Before 9/11 and continued even with the war spending, that was off the books till the Obama administration, and still is borrowed, All related to both, in the immediate years after on whatever that administration wanted from their congresses, they got! Nor has a dime been paid as to the peoples responsibility, the now decades long term results of, the Veterans Administration: Iraq war ends with a $4 trillion IOU: 15 December 2011 - Veterans' health care costs to rise sharply over the next 40 years, and that's just a small part of the overall.
Too much money spent in Iraq for too few results
click on photo to visit report site

Ten years and $60 billion in American taxpayer funds later, Iraq is still so unstable and broken that even its leaders question whether U.S. efforts to rebuild the war-torn nation were worth the cost.

In his final report to Congress, Special Inspector General for Iraq Reconstruction Stuart Bowen's conclusion was all too clear: Since the invasion a decade ago this month, the U.S. has spent too much money in Iraq for too few results.

The reconstruction effort "grew to a size much larger than was ever anticipated," Bowen told The Associated Press in a preview of his last audit of U.S. funds spent in Iraq, to be released Wednesday. "Not enough was accomplished for the size of the funds expended."

In interviews with Bowen, Prime Minister Nouri al-Maliki said the U.S. funding "could have brought great change in Iraq" but fell short too often. "There was misspending of money," said al-Maliki, a Shiite Muslim whose sect makes up about 60 percent of Iraq's population. read more>>>
The only ones who've Sacrificed are those that served, for many multiple tours and even in both occupation theaters, and their families! You see that 'freedom' is free for the greater population, DeJa-Vu all over again, as they move on from the blood spilled and their responsibilities for what was done 'in their names'! Even from any and all accountability as the world still waits, especially those the terror was reigned down on! And never to be fully known the number of civilian casualties and those still refugee's from their country!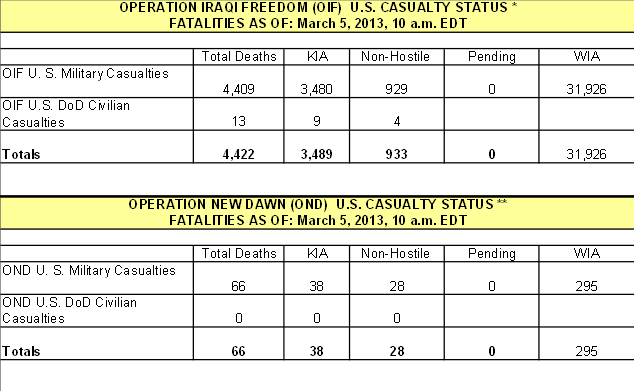 From page four of the final report document
For all those lost in Iraq
Each one lost is everyone's loss you see
Each one lost is a vital part of you and me —Bruce Cockburn
And though the Brit Chilcot Inquiry final report has yet to be released, delaid a few times but supposedly coming later this year, the leaks have apparently started on what it will contain. Those that followed know what came out, plenty, especially in the early days and related to the bush administration and all those around same. This hit today as well:
Exclusive: Chilcot Inquiry to challenge official line on Iraq
'Authoritative' report will draw on unprecedented access to Blair-Bush emails

06 March 2013 - The inquiry into how Tony Blair committed Britain to war in Iraq is set to challenge the official version of events when it reports later this year, The Independent understands. The team led by Sir John Chilcot, which is examining Britain's part in the US-led invasion, will "challenge previous accounts of what happened", according to senior sources in the inquiry. read more>>>
And before all of the above started hitting either my in-box or the wires I had started collecting some links so as to built a post after catching this:
10 years later, Dixie Chicks right all along
5 March 2013 - It was 10 years ago this week -- as the country was barreling toward war with Iraq -- that Natalie Maines, lead singer of the Dixie Chicks, stood in front of a packed house in London and said:

"Just so you know, we're on the good side with y'all. We do not want this war, this violence. And we're ashamed the president of the United States is from Texas."

It didn't matter that the evidence to invade Iraq was questionable or that Maines later apologized. The damage was done, and one of the most popular acts in the country became its most hated. Its music was banned from radio, CDs were trashed by bulldozers, and one band member's home was vandalized. Maines introduced "Soldier" with a call for peace, but she would soon find that the group needed metal detectors installed at entrances to shows on its stateside tour because of death threats.

It was a classic case of freedom of speech meeting the irrational repercussions of that speech. "Soldier" is not only their last No. 1, it's still their last single to chart in the top 30. Officially, they've been on hiatus since 2006, but Maines, who is planning on releasing a solo CD in May, recently said, "I just don't feel like it's the Dixie Chicks' time."

For anyone who appreciates great music, this admission should be vexing. read more>>>
Still might, for not only should mention of the Chicks be included 'ten years' after, those that went after them never stopped. They will never admit not only how wrong they were on the wars, that they have yet to pay for, but on everything they stand for in that twisted ideology as they continue to attack individuals and groups, destroying lives and good works, some of that has blown back on them but they still continue same, and destroying what this country once was and was still building towards!