First lets get something straight: "It's anti-American because to protest Wall Street and the bankers is basically saying you are anti-capitalism. The free market system and capitalism are two of the things that have allowed this nation and this economy to become the biggest in the world." Herman Cain
That isn't only cains failed ideology thinking as to a true capitalism economy, it's the so called ideology of the right and conservative mentality. Bankers, Wall Street, Corporate execs. are but tools in economic growth that fails without the respected and experienced work force bringing the much needed innovations to quality product, and more, production, along with healthy competition. Think of the continuing growth of call backs, recalls, on all sorts of products, food stocks, etc., over the past some twenty years and in many cases the damage done prior to as the new capitalism disregards their workforce for the bottom line profits. Wall street is no longer for investments in growth it's just rapid movement of money for profit lines. Banks make new small company start ups and growth, the real 'job creators' nearly impossible as they've tightened lending to no matter a business plan.
The most important tool in any economy are the workers of as they are also the most important as consumers!
The movement is traveling Worldwide, as the working class, the most important ingredient in any economic ideology let alone to have a successful capitalism economy, join in All the Messages, not neatly wrapped for the corporate media talking heads, individual as well as group, to the forces of failed economic policies!
Day two of protest outside Central Bank
Oct 10th, 2011 - DOZENS OF protesters continued the second "day of occupation" at the Central Bank plaza in Dublin yesterday, having slept there in tents overnight.

"Occupy Dame Street" is a sister protest of the mass "Occupy Wall Street" demonstrations against financial greed taking place in New York since last month. As with the US movement, it is described as a "non-violent, leaderless resistance movement" with no political affiliations.

Dublin protesters have listed demands including that the International Monetary Fund and EU "stay out" of Irish affairs, that ordinary people do not repay bank debt, that there be reform of the political system for "real participatory democracy" and that oil and gas reserves off the coast "be returned to the people".

About 80 people gathered for the start of the protests on Saturday and half a dozen tents were erected by evening. There was a small Garda presence at the protest which organisers had stressed would be peaceful.

Organisers asked for no political party or trade union banners to avoid "hijacking" of the event. read more>>>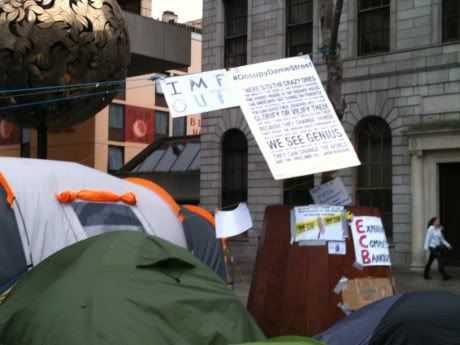 Occupy Dame Street, Dublin. Day 1, 8th of October 2011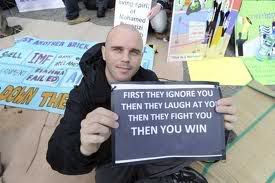 Oct 10th, 2011 - Occupy Dame Street group camp out at Central Bank
A group of people protesting outside the Central Bank in Dublin for the past few days remain there this afternoon.

The 'Occupy Dame Street' movement is described as a 'non-violent, leaderless resistance' which hopes to end corporate corruption.

It is a sister protest of the recent 'Occupy Wall Street' demonstrations in the US.

These have taken hold in many cities around the world.

The group is inviting people to come and join in and they say they have had a very positive response from everyone so far.

This protest began on Saturday afternoon when a group of people pitched tents outside the Central Bank in Dublin.

The group says they will stay there peacefully for as long as it takes. read more>>>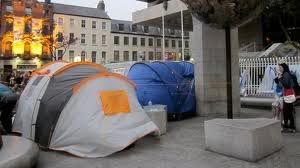 Occupy Dame Street, Dublin. Day 2, 9th of October 2011
Support and Join them in one way by Liking them on their Facebook site page.